A record year for the richest. Despite the pandemic and the economic crisis, the great fortunes of the planet have continued to accumulate wealth in 2020. Without restraint, mainly due to the rise in the stock market of technology groups. The year ends at all-time highs for the 50 richest people in the world, who added 785,764 million dollars (640,000 million euros) to their fortunes in the last 12 months, according to data from Bloomberg. The luckiest of them all has been Elon Musk, who says goodbye to the year with $ 133.1 billion more than in 2019. The co-founder of Tesla and SpaceX Among other companies, he is the person who most increased his assets and accumulates a fortune of 160,700 million. The businessman and physicist of South African origin become the second richest person in the world, behind the founder of Amazon, Jeff Bezos, and displaces Bill Gates to third place, with 131,500 million and an increase in his assets of 18,400 million.
The top is still for Jeff Bezos, who ends the year again as the richest man in the world. In spite of himself, since he maintains that what he would like to be known for is his facet as an inventor, entrepreneur or father, and that, as stated in the book Crea & Divaga. Life and reflections of Jeff Bezos (Planet), the second position in the ranking of the wealthiest and was doing well. In 2020, the founder of Amazon amassed a fortune of 78.9 billion dollars and accumulated a net worth of 193.7 billion. A year very different from the previous one, in which he lost 8,700 million, and had to compensate for the divorce to his wife, then Mackenzie Bezos, today Mackenzie Scott, after 25 years of marriage with 4% of the shares of the electronic commerce platform. The writer and mother of Bezos' four children ends 2020 with a fortune of 59,800 million, with an increase in her assets of 22,700 million thanks to her shares in Amazon, being the third richest woman on the planet, behind Francoise Bettencourt, who manages the shares inherited from his mother in the L'Oréal group and which holds 76.3 billion euros, and Alice Walton, one of the owners of the American department store Walmart, with 62.4 billion under her belt.
Musk's entry to the podium has displaced the all-powerful French tycoon Bernard Arnault to fourth position, who has seen his wealth increase in 2020, of 8,500 million, have not been as buoyant as in previous years, because the pandemic has affected to the luxury sector. Louis Vuitton President Moët Hennessy (LVMH) continues to be a part of the exclusive club of hundred billionaires with a fortune of 113.800 million, along with Bezos, Musk, Gates and Mark Zuckerberg.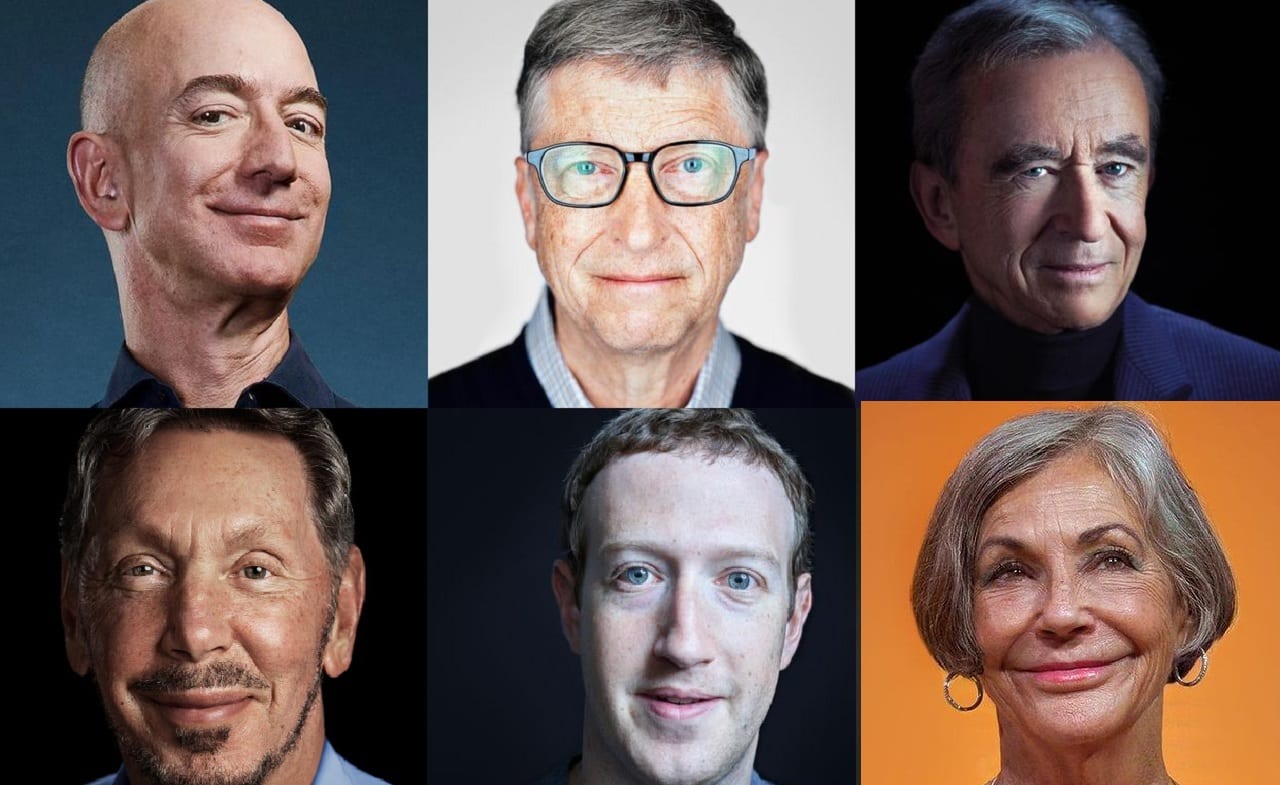 Precisely, 2020 has not been an especially quiet year for Facebook, whose owner and CEO had to step out and take measures to try to combat the misinformation that circulates through the social network in the face of the presidential elections in the United States, in addition to face accusations by your country's Congress of acting, together with Apple, Amazon and Google, as a monopoly and hindering the development of its competitors. However, despite the fact that both the US and the European Union try to take power away from big technology companies, among which is Facebook, Zuckerberg keeps his economic power intact and closes the year with 104.8 billion, 26.5 billion more than in January. .
He is followed in sixth place by a business veteran, Warren Buffett, who drops two spots to sixth, the same as Amancio Ortega held last year. The Oracle of Omaha's fortune has dropped 2.4 billion this year, leaving it with a capital of 86.9 billion. He continues to be one of the largest investors at the helm of Berkshire Hathaway, the investment company from which he controls packages of shares in multinationals such as Coca Cola or American Express. On August 30, he celebrated his 90th anniversary, and received a special congratulation through Twitter: his friend Bill Gates prepared a cake that he decorated with the face of the birthday boy, who took advantage of the celebration to announce an investment of more than 5,000 million in companies Japanese.
Larry Page continues to distance himself with his partner at Google, Sergey Brin. The former added 18,000 euros to his account in the last 12 months and accumulated 82,600 million, while the second earned 17,300 million and ends the year in ninth place with 80,000 million. In between they have the businessman and former CEO of Microsoft, Steve Ballmer, one of the biggest promotions of the year, which rises to the eighth place from the 15th. The owner of the NBA team Los Angeles Clipper accumulates 81,000 million after winning 22,800, due to the good progress of the company he founded with Bill Gates, of which he continues to be a shareholder. Larry Ellison, founder of Oracle, also slides into the top ten fortunes, rising four notches, and has a net worth valued at 78.8 billion, after increasing it by 20.1 billion.
And Amancio Ortega leaves the top ten, occupying the 14th position after dropping eight places. The Galician has suffered the fall in the Inditex stock market, due to the fact that during the pandemic the textile group had physical stores closed in a large part of the countries in which it is present. Ortega's fortune has been diminished at 7,300 million, ending the year with a total of 68,200 million. Another important fall is suffered by Charles Koch, co-owner of the Koch Industries conglomerate, which in 2019 was in the ninth step and closes the Covid year in 21st place, after leaving 5.7 billion on the way and staying with a fortune of 56.3 billion. Also the family of his brother David, whose capital is managed by his widow Julia Flesher Koch, fell from tenth position to 22nd, losing 5,700 million and having 56,300 million.
These are the 10 biggest fortunes in the world now:

1. Jeff Bezos
Jeffrey Preston Jorgensen (Albuquerque, USA, 1964) retains the crown as the richest man in the world in 2020 with a wealth valued at 193.7 billion dollars. He began castrating cattle on the family ranch in Texas, studied Computer Science and Electrical Engineering at Princeton, and later founded Amazon, the world's largest online commerce company. The Seattle-based company sells all kinds of items, from books to home products through its website. In addition, it controls the Whole Foods food chain and offers cloud computing services and streaming videos . The Bezos firm had profits in 2019 of 10,500 million, 15% more. That same year he announced his divorce from Mackenzie Bezos. He's a Star Tre fank, with whom he became fond of computers, has even acted in Star Trek Beyond .

2. Elon Musk
Elon Reeve Musk (Pretoria, South Africa, 1971). physicist, entrepreneur, philanthropist, visionary, eccentric, ecologist … The founder of Tesla, SpaceX, SolarCity or OpenAl has become the second fortune on the planet, with a net worth of 160,700 million dollars, by increasing his capital by 133,100 million thanks to the revaluation on the Tesla Stock Market. A great year is ending for this entrepreneur, who learned to program when he was only 10 years old and at 12 he was already selling a video game online. At the age of five he moved to Canada, a country of maternal origin. He studied Economics and Physics at the University of Pennsylvania, then settled in Silicon Valley. He set up Paypal, which in 2002 bought Ebay for $ 1.5 billion, which he invested in Tesla, Solar City and Space X.

3. Bill Gates
Microsoft co-founder William Henry Gates III (Seattle, 1955) is having a great year again. The revaluation of the software giant's shares has allowed it, among other reasons, to increase its wealth by 18,400 million dollars, although it increases distances with Bezos due to the irruption of Elon Musk in the second position, with a net worth of 131,500 million. Gates, who studied at Harvard, owns 1% of Microsoft and the rest of his equity is managed through his company Cascade Investment, which controls stakes in dozens of companies, including Canadian National Railway, the main Canadian railway manager. , Deere and Ecolab. As he confessed to the Reddit news aggregator in 2014, Gates washes the dishes every night during dinner. This computer genius, together with his wife Melinda Gates, possesses one of the largest private foundations in the US, dedicated to alleviating health and education imbalances in underprivileged regions. He plays bridge with his friend Warren Buffett, who he made an Oreo cake for his 90th birthday.

4. Bernard Arnault
The almighty luxury mogul descends one position and is placed as the world's fourth fortune. Born in Roubaix (France) in 1949, he studied engineering and controls half the capital of Louis Vuitton Moët Hennessy (LVMH), the great French luxury goods conglomerate. 2020 has not been as favorable as the previous one, due to the pandemic, since with the company's shares on the stock market it has obtained 8,500 dollars compared to 37,700 million last year, which allowed it to access the exclusive club of one hundred billion swith Jeff Bezos and Bill Gates. LVMH, which had a turnover of € 53,670 million in 2019, has a portfolio of brands such as Louis Vuitton, TAG Heuer, Loewe, Christian Dior or Dom Pérignon champagne, to which it intended to include the legendary American jewelry Tiffanys, but due to the pandemic was reversed. The conflict has just been resolved, when the shareholders of the US group approved a reduction in the price of the operation, agreed in November 2019, by which LVMH bought the jewelry for 14,700 million. Arnault will save about 420 million in the operation.

5. Mark Zuckerberg
The co-founder and CEO of Facebook has once again had, as in 2018, another horrible year, with the same accusations of making illegitimate use of the users of his company and promoting fake news , as well as the measures that the United States intends to agree on and the European Union to reduce the hegemony of technology. Despite this, Zuckerberg has had a good year, thanks to the good performance on the stock market of the largest social network in the world that has allowed it to increase its assets by 26,500 million and place it at the end of this year at 104,800 million. Be part of the group of one hundred billion. In 2012, Zuckerberg (White Plains, USA, 1984) took Facebook to the stock market in the largest premiere in the park of a technology group to date. The day after the company's shares began trading, he married Priscilla Chan. He has publicly stated that he will donate 99% of the shares he owns on Facebook. A precocious genius, during high school he created a family messaging system that he named Zucknet. Before entering Harvard University, he received offers to work at AOL and Microsoft, which he rejected.

6. Warren Buffett
Known as the Oracle of Omaha, the city of Seattle where he was born in 1930, is surely the best investor in history. In fact, on August 30 when he turned 90, and after seeing how his friend Bill Gates made him a cake on Twitter that decorated with his face, he announced an investment package in five Japanese companies. Perhaps he owes some of his wisdom to Benjamin Graham, the father of value investing, who was his professor at Columbia University, where he studied economics. He began selling gum door to door when he was only six years old, has a fortune valued at 86.9 billion dollars and still runs Berkshire Hathaway, the powerful investment company through which he controls important share packages in large multinationals such as Coca Cola and American Express. This financier, which encourages the rest of the great fortunes to donate part of their wealth through the philanthropic campaign Giving Pledge, has achieved with its investments in Berkshire Hathaway a compound annual return of 20.5% since 1953. Every year, on the occasion of the general meeting of shareholders, organizes an auction to be able to dine with him in which considerable sums are paid that are destined to solidarity causes. His hobbies include playing the ukulele and playing bridge. organizes an auction to be able to dine with him in which considerable sums are paid that are destined to solidarity causes. His hobbies include playing the ukulele and playing bridge. organizes an auction to be able to dine with him in which considerable sums are paid that are destined to solidarity causes. His hobbies include playing the ukulele and playing bridge.

7. Larry Page
Founder along with Sergey Brin, whom he met while doing his doctorate at Stanford, of Alphabet, the holding company owned by Google, the largest Internet search engine. Page's fortune (East Lansing, Michigan, 1973) amounts to $ 82.6 billion, after adding $ 18 billion that year alone. He studied Computer Systems Engineering at the University of Michigan, although he received his primary education at the Montessori school, which encourages students' independence. In early December, Page and Brin announced that they were leaving their executive positions at Alphabet to "simplify the management structure." Resident in Palo Alto, California, Page invests Planetary Resources, a mining company specializing in asteroids. He is fond of kiteboarding .

8. Steve Ballmer
Steven Anthony Ballmer (Detroit, Michigan, 1958), businessman and former CEO of Microsoft, retired from the position in 2014 although he is still a shareholder of the same, which has resulted in an increase in his assets of 22,800 million in 2020, which in total It amounts to $ 81 billion. He has owned the Los Angeles Clippers NBA team since 2014, which he acquired for $ 2 billion. He joined the software company founded by Bill Gates in 1980, which he replaced in 2008. He continues to drive a Ford car, in deference to his father, a former CEO of the firm.

9. Sergey Brin
Sergei Mikhailovich Brin was born in Moscow in 1973 and emigrated with his family from the Soviet Union when he was just six years old. Following in the footsteps of his grandfather and father, he received a BA in Mathematics and Computer Science from the University of Maryland. Later he transferred, thanks to a scholarship, to Stanford University for a doctorate in Computing. There he met Larry Page, during some orientation sessions for new students, and with whom, although he initially clashed, he founded Google (although the original name with which they baptized the precursor of the most famous search engine in the world in 1996 was BackRub). Currently, his fortune amounts to 80,000 million dollars, and over the last 12 months he has earned 17,300 million.

10. Larry Ellison
Lawrence Joseph Ellison (The Bronx, New York, 1944), entrepreneur, computer scientist and founder of Oracle. Of the eccentric group, his mother, single when he was born, gave him to his sister to raise him in Chicago, but he was finally given up for adoption, when he was a baby, to a married couple of Russian origin. It has closed a great year, with a fortune of 78,800 million, which increased in the last 12 months by 20,100 million. The late Steve Jobs acted as a photographer at his fourth wedding in 2003, he collects samurai armor and weapons, his hobbies include aviation, playing tennis and playing the guitar. He owns 98% of the island of Lanai, Hawaii, which he bought for $ 300 million.
ONLY 6 WOMEN AMONG THE 50 RICHEST
Women. Among the 50 richest people in the world are six women, led by Françoise Bettencourt, who inherited the shares of the L'Oréal group from her mother, Liliane Bettencourt, and who has a net worth of 76.3 billion, followed by Alice Walton, member of the family that owns Walmart, with 62.4 billion, and Mackenzie Scott, who joined the billionaires' club after her divorce from Jeff Bezos, founder of Amazon, and who has a fortune of 59.8 billion.
Next are David Koch's widow, Julia Flesher, who manages a wealth of 56.3 billion, Jacqueline Badger Mars, daughter of the founders of the candy company Mars, with 41.9 billion, and the left-wing activist and founder of the Emerson Collective, Laurence Powell, with 38.9 billion.