Numerous celebrities of all kinds have joined the crypto community, as investors, sponsors or the image of some tokens. To the examples of Paris Hilton or DJ Khaled is added the greatest influencer of all time, Kim Kardashian, who this Monday shared a story on her Instagram account that has 210 million followers promoting the Ethereum max token (EMAX).
As reported by 'Coindesk', it is an advertising promotion for which the most famous of the Kardashians would have earned around $500,000. Their publications are priced between $300,000 and half a million, some even more, reports this medium. In addition, the star added the caveat that it was a promotion, as it is legally bound. However, it is in the lower right corner of the story and has only three characters: #AD. That is, advertising.
This is the type of information that the Federal Trade Commission requires of social media 'influencers' who post ads for beauty products or health supplements. Similarly, the Securities and Exchange Commission also requires a declaration of those promoted publications.
The text in question read: "Are you into the cryptocurrency????? This is not financial advice but to share what my friends have just told me about the Ethereum Max token! A few minutes ago Ethereum Max burned 400 trillion of tokens — literally 50% of your management portfolio giving the entire E-Max community."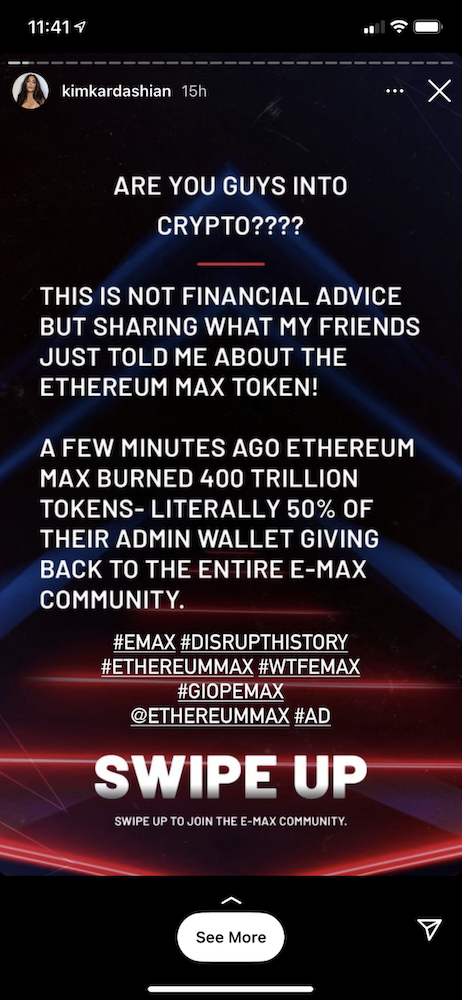 WHAT IS HAPPENING WITH THIS CRYPT?
In addition to Kardashian, boxer Floyd Mayweather and former basketball player Paul Pierce have promoted the ERC-20 token-based and programmed to function on the Ethereum network. Like Safemoon, another fringe offering, it promises to give token holders a share of all transactions, in this case 3%.
It launched two quadrillion tokens, which have traded for fractions of a penny since launch on May 14. It is primarily traded against ether, the native currency of the Ethereum network on Uniswap, a decentralized exchange that allows anyone to list a token.
EMAX has risen 5.532% in the last two weeks – it was launched just a month ago – but has plunged 32% in the last few days and is trading at $0.0000001648. However, experts warn about the reliability of this token since on its website there are no names of developers or clarity about its purpose of it.