They have been with us since the 60s of the last century, when the computer scientist Joseph Wiezenbaum created Eliza, a program that was capable of establishing communication between people and computers using human language.
Thanks to Artificial Intelligence and the rapid evolution of technology, they have been installed in the lives of users in such a natural way that we can already do almost anything such as, for example, request boarding passes for a flight, receive information from any product or book a table in a restaurant, among many other things.
Today I want to talk to you about chatbots, those friendly robots that you can install on your website and that are capable of solving multiple needs of users and customers who enter it. We will also see the advantages they bring to your company and I will show you some examples of chatbots that are already enjoying great success.
What is a chatbot?
Also called a bot or conversational bot, a chatbot is a technology that manages to establish communication between the web where it is installed and the users who interact with it.
This is achieved through a computer program that is usually inside a messaging application such as WhatsApp, Facebook Messenger, Telegram or Slack.
The functioning of the chatbot is based on artificial intelligence; this makes it more interesting for companies. Because thanks to AI it learns about the habits, customs and tastes of users, which means that the web can expand its offer of products and services in an increasingly specific way and with great precision.
In practice, the user sees an interface through which he establishes communication with the web, and the chatbot offers responses that have been previously programmed, pretending to be a real interlocutor who is on the other side of the screen.
How chatbots work
As I mentioned in the previous section, a chatbot is nothing more than a computer program whose purpose is to answer the questions that users who enter the web may raise.
To be able to answer users' questions, it is necessary to have a database where the answers are written along with the recognition patterns. Therefore, the more extensive this database is, the better the bot will be able to react.
The operation is based on the fragmentation of the questions into individual components following predefined rules. This is done through macros or scripting languages ​​and built-in interfaces.
The advantages that a chatbot brings to companies
The use of messaging apps is booming. We only have to observe the behavior of users to realize the boom that these apps are taking. And it is that people prefer to have a conversation to interact on the Internet.
The inclusion of a chatbot on your website is another step in communicating with your customers, as well as helping you get to know them better.
These are the most important advantages that a chatbot can bring to your company.
Arouse the trust of users
You already know that trust is essential for your leads to become customers. A chatbot capable of answering a question to any user who asks, has a good chance of gaining their trust to take the step of buying. You can take the opportunity to inform about the conditions of purchase, returns, offer alternative products, complementary services, etc.
Is immediate
One of the greatest advantages that a web page can offer today is the speed of response. Users increasingly demand more immediate responses to any query they have. With a well-designed chatbot, you are giving immediate answers to users, preventing them from looking for them to your competition.
Is always available
It doesn't matter when the user enters your website. Thanks to the bot you can be informed of any product or service of your company when requested. This advantage is infinite when you are working globally and your clients are in any country.
It's easy to use
One of the best advantages of chatbots is that you do not need great computer knowledge to install one on your website. They are very intuitive programs and easy both to install and to program. The most important thing is that you have a clear question and answer system because the start-up of the chatbot is very simple.
Improves user experience
A good service to the customer generates pleasant experiences both your customers and users that want to transform into customers. You can take advantage of the potential of chatbots to collect information from users also on the main social media. In addition, of course, to offering excellent customer service.
Help your customers buy
Some chatbots can help your customers in their purchasing processes. They search for articles, inform about the purchase procedure and can even be the payment gateway for online purchases.
What should a chatbot contain?
You already know that this program helps answer possible questions that users ask when they enter your website. However, the first thing you should be very clear about is how you want to help your customers and visitors through the chatbot.
For that, you have to define very well what service you are going to offer in order to turn it into a conversation that adds value to the user.
You must create a whole content strategy for bots with a good architecture full of semantic relationships. The main objective has to be to lead the user to have a conversation that the chatbot already knows; To do this, you must create closed questions with predefined answer options.
You know, the more you work on this, the more real the interaction with users will be. However, keep in mind that the best way to perfect this is with trial and error; let the artificial intelligence of the chatbot itself learn to improve the interaction, making it more fluid.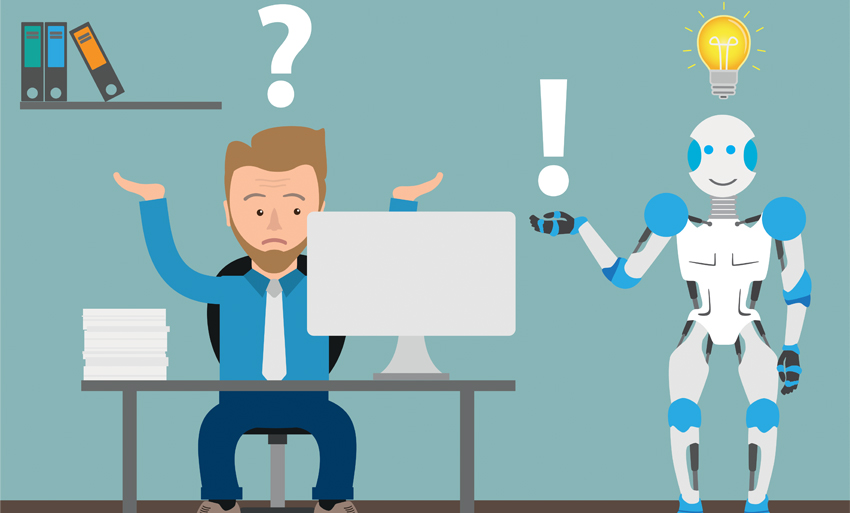 4 examples of chatbots already used by millions of users
Surely you have also used one of these 4 examples of chatbots that I want to share with you. Because, beyond offering information and responding to users who enter your website, a bot can also be another sales channel for your company.
Let's take a look at these famous chatbots:
Uber: we all know this famous application through which we can request a vehicle with a driver. It works through Facebook Messenger and, as you probably already know, it informs you of the price of your trip and the waiting time of the car that will pick you up where you have requested it, as well as multiple other informative data about the person driving. And it even offers you a chat to communicate with the driver.
Allset: is an application that works in the United States and allows users to make a reservation to eat at any of the restaurants on their list. You can also choose the menu and you also have the option of taking the order home with you.
Skyscanner: the flight search engine has also incorporated a chatbot for Facebook Messenger. It offers the same services as the web, and the bot is able to propose alternatives about destinations, affordable prices and search trends. All this by maintaining a conversation with the users.
KLM: the Dutch airline has been working with its bot on Facebook Messenger for more than 5 years, doing customer service tasks. Through chat, users can speak directly with company workers. Additionally, the chatbot can issue boarding passes, make changes to reservations, or schedule check-in reminders.
conclusion
Being close to your customers and followers, offering them everything they need at the moment they request it, is a handicap that all companies in today's digital world experience.
Thanks to chatbots you can get much closer to your community, launching a new communication system through conversations that are already possible thanks to the artificial intelligence that they have incorporated.